Canon Rebel XT
Desde hace casi 8 años, que mi fiel Olympus fue robada no me habia emocionado tanto por el lanzamiento de una camara: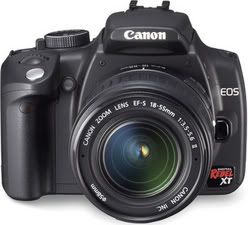 The New Canon Rebel XT is an 8.0 Megapixel (APS-C CMOS sensor) DSLR with a 3 frames per second shooting rate (14 frame bursts) that Canon believes will take over from where previous Rebel releases have left off. It has the same DIGIC II image processor of found in the high end professional 'D-series' of DSLRs.

The Canon Rebel XT (known as the EOS 350D Digital in Europe and the EOS Kiss Digital 2e in Japan) also features USB 2.0, simultaneous RAW and JPEG writing and a super fast 0.2 second start up. It comes in both silver and black and is sure to get Canon enthusiasts mouths watering.


y esto del informe a la prensa:

LAKE SUCCESS, N.Y., Feb. 17, 2005 – The Canon EOS Digital Rebel? camera that rocked the world of consumer digital SLRs little more than a year ago now has a new, faster, even smaller, big brother. Sibling rivalries aside, the 8.0 megapixel Canon EOS Digital Rebel XT SLR, which will be showcased at PMA 2005, February 20-23 (Canon Booth #3503), in Orlando, Fla., adds resolution, speed, an extra dollop of creative control and enhanced comfort in the hand, to one of the smallest and lightest digital cameras in its class. Despite its advancements in ergonomic design and technology, this easy to use EOS digital camera is compatible with all of Canon's EF lenses including the EF-S lenses and still retains the sub-$1,000 price point, proven crucial to entry-level digital SLR consumers.

Buenos por dos razones, otra camara dentro de la línea prosumer y una rebaja de precio de la Digital Rebel 300 de 6 Mega pixeles.

Canon Rebel XT: "f"
|