Dos de perros...
Su perra sera su dama de honor...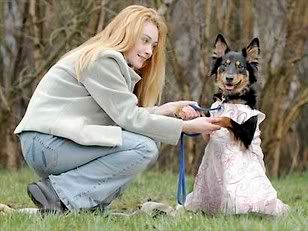 Bride-to-be Sonia Wilde is likely to be upstaged on her big day by her chief bridesmaid - her pet dog, Lucy Brown.

Dressed in a pink, frilly dress, complete with bonnet, three-year-old Lucy will be the centre of attention when Sonia, 29, ties the knot with Steve Begley in October.


Ananova - Chief bridesmaid's a dog!


Pareja encuentra la imagen de su perro en un tronco...





A couple were stunned to find the mirror image of their beloved pet dog - embedded in a log.

Dog lovers Joan and Terry Wright, from Manchester, claim the face of their beloved pet labrador Bess is reproduced in a log /MEN

Terry Wright and wife Joan were amazed to see a colour vision of their beloved labrador Bess, who died three years ago, set into the grain of a poplar tree.

Terry, 66, was about to throw the log on the fire at their 200-year-old cottage at Antrobus, near Knutsford, when Joan spotted the resemblance.

Terry, a retired carpenter, said: "I'd already thrown it into the log basket when my wife just looked at it and said our Bess had come back.

"I asked if she'd been drinking whisky, but when I looked at the log I was amazed.

Ananova - Dog in a log
|