Masami Teraoka's Art Theatre
Galeria del pintor japonés Masami Teraoka. Teraoka esta interesado en temas actuales y darles el tratamiento de obras antiguas, como los grabados Ukiyo-e y en sus trabajos más actuales tripticos medievales.




My McDonald's Hamburgers Invading Japan and 31 Flavors Invading Japan Series in the 1970's and AIDS Series in the 1980's reflect my cultural heritage from Japan. The Ukiyo-e or wood block print tradition represents my cultural identity. Geisha and samurai images I use are a way to depict traditional-thinking Japanese people.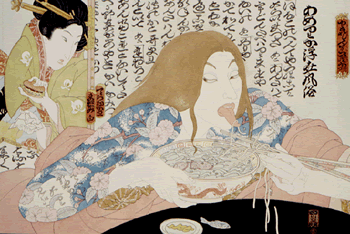 Masami Teraoka's Art Theatre
|