Funfurde: ruf. cinema. bed.
La cama perfecta... con proyector y pantalla integrados...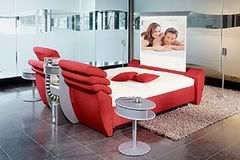 multi-faceted.
Described as the first multimedia bed, the Ruf has a fold-out screen tucked in the footboard (activated by remote, of course), and a shelf for a projector between the two plush headboards. There's also room for some DVDs, a DVD player, a conduit for cables and even a place to hide your subwoofer. Rockin!

Funfurde: ruf. cinema. bed.
|